It's official, AMD are to drop the brand name that has been synonymous with the graphics industry for 25 years.
AMD will ofcourse still be producing ATI's graphics card, just its parent company name, AMD.
I'm not sure exactly why this move has come about, surely a mixture between marketing jargon and AMD's move to the fusion platform, where they probably want consumers to identify there products as by 1 brand rather than 2.
I'm not sure how this will affect the sales of AMD graphics cards (it feels wrong saying that..) but I'm sure the PR from the name change will cause nothing but more attention and sales.
In Q2 of 2010 AMD shipped over 50% of the world's discrete GPUs, a clear indicator than ATI is better known on the graphics market than AMD is on the microprocessor market... Or more prefered perhaps. This is further backed by their shipping of over 20 million units of their Radeon HD 5000-series GPU's, over Nvidias pitiful less than a million for their Fermi core (GTX 400-series) GPU's. Still, starting from the Radeon HD 6000-series due later this year, the ATI branding will be missing.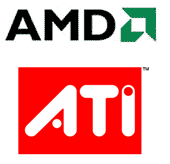 The Radeon and FirePro sub-branding will still be present, hopefully they keep the naming nice and simple too. Oh and performance to match!