(We'll see about that.)
With such a large and growing market like online gaming, it comes as no surprise that this has become a market where some companies push gimmicky products with no originality or benefit to the consumer onto customers - amongst the usual run-of-the mill and even decent products, many people are stung by bad purchases.
Gamers, however - the targets of this 21st century market are treat no differently to any other, but when it comes down to it sleek looks for most gamers it just doesn't cut it. Some of them can spend days, weeks or even months pouring over benchmarks before making a choice on their latest purchase, be it a new graphics card, CPU or something much more trivial.
The product I'm reviewing today, the Bigfoot Networks' Killer 2100 NIC is a product solely aimed at gamers. This is because you're average Internet user really isn't going to care if a network card can shave a few, or even hundreds of milliseconds off their latency. Whereas for serious gamers such as competitive players or gaming enthusiasts are going to want the very best they can get out of their machine, especially when it comes to gaining the competitive edge.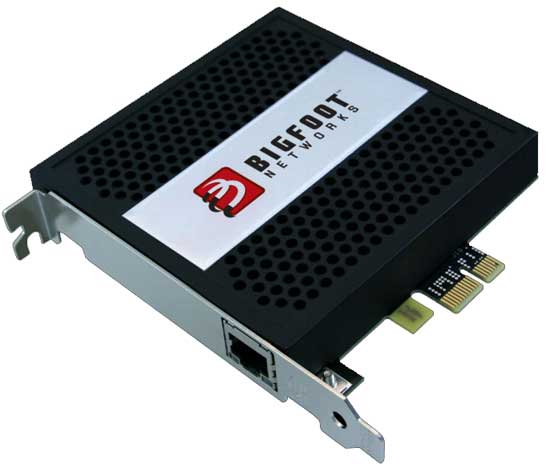 Functionality
In short, this card aims to reduce your ping and allow for higher frame rates.
Now I know a lot of the tech savvy of you out there will be extremely sceptical of these claims, and rightly so. We've never really had any network cards marketed at gamers, specifically ones that claim these kinds of improvements. On the surface, this may sound like somebody is trying to get you to buy their gimmicky PCB with some metal wrapped around it, not the first time something like this has happened in the tech industry. However once you read how the card works, I'm sure you'll be much more forgiving of the technology.
The Killer 2100 works by bypassing the Windows networking stack that any other network controller (including the on-board one of your motherboard) uses. This theoretically (or Bigfoot claims) allows for lower pings and higher frame rates in your games, as the Windows networking stack isn't optimised for gaming network traffic. The Killer 2100 does this by essentially being a computer on a plug-in card that runs a dedicated Linux install to pass data between your computer and your network, cutting out the middle man (Windows.)
To do this the Killer 2100 comes with a 400MHz Network Processing Unit (NPU) and 128MB of 266MHz DDR memory. The card connects to your PC through a 1x PCI-E slot (I lacked a spare, however not to worry as the card will work in up to a PCI-E 16 x slot) and supports 10/100/1000Mbps connections. The Killer 2100 also comes with a black vented case and emblazoned with the Bigfoot Networks logo neatly on the front, which its predecessors lacked. However it's a purely cosmetic addition but its feels sturdy and looks attractive.
Features
Bigfoot also ships the card with its own software, which is simple to install and very easy to use. Its user friendly interface allows you to choose between monitoring your NPU or bandwidth activity to many other details of your system. The software will even do a speed test of your internet connection if you wish. However the best feature by far of the software is being able to rank your programs and applications in order of which gets the most bandwidth and headroom, and allows you to cap the bandwidth on other programs, to ensure your game is getting all the network room it needs.
This allows you to torrent (albeit bottlenecked) and play your favourite online games smoothly at the same time.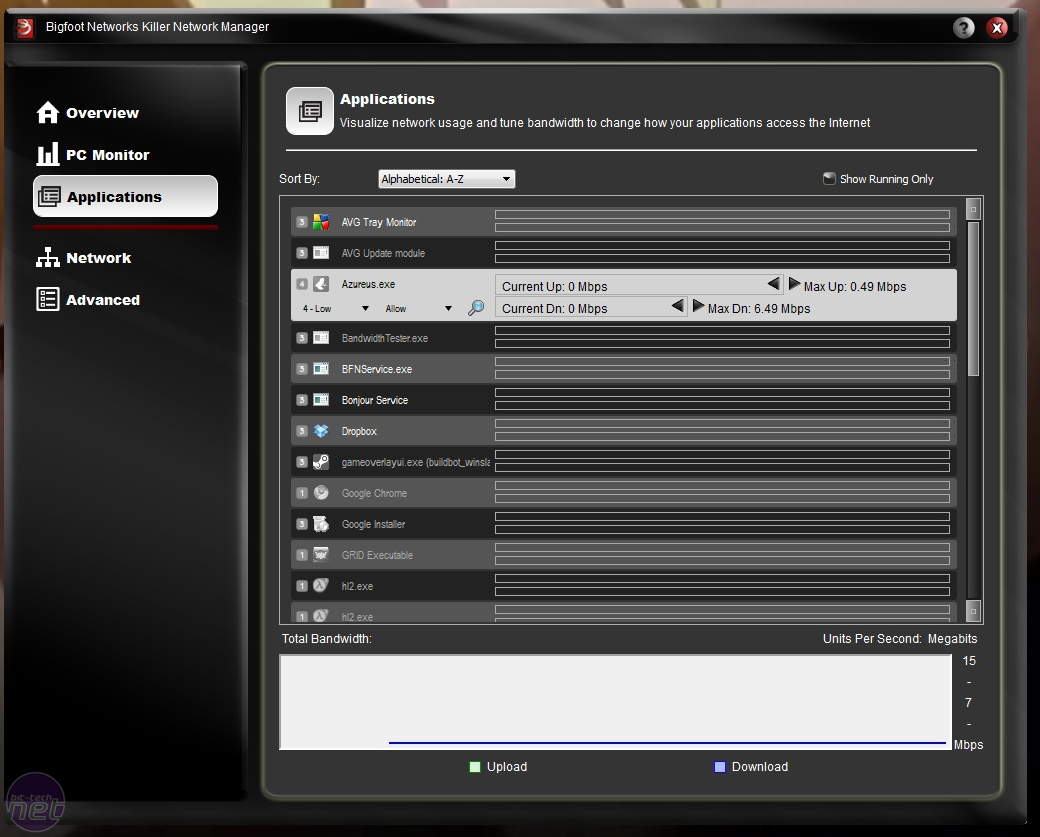 Testing
One thing I suspected before even taking the card out of the box was how difficult it was going to be to review accurately. With internet connection speeds fluctuating constantly it would be hard to get a solid verdict, with even the time of day haven't effects on its performance.
To try and get an accurate result I ran a speed test every night 3 nights prior to my review, and 3 nights after installing the card. My results showed no change here, with the speed bobbing between 10 and 13mb/sec for the onboard speed and for the Killer 2100.
Onto the game benchmarks, I had literally no clue whether I was going to see any improvement at all, as I've never heard of getting a NIC purely to enhance your games in the past.
My computer is quite average if not slower than most gaming rigs these days and could do with an overhaul, however this provides a good platform to see whether this card is worth getting to breathe new life into an older rig.
My computers key specs:
2.9 GHz Duo Core CPU
2GB RAM
4870 1GB Graphics Card
I decided to make FPS favourite Counter-Strike: Source my main benchmark, as it is still played by millions around the world and no genre other than FPS benefits quite as highly from those millisecond connection and frame improvements.
Running the in-game video stress test I wanted to see how much strain was being taken off the machine purely by having the network stack cut around, with very little internet usage going on in the background. I ran these tests 3 times on 4 different graphical settings, both on and off the Killer NIC, providing a total of 24 results.
As you can see the biggest leap in performance was at the lower end of spectrum, with the lesser improvement with everything maxxed out. Strangely on high test the performance went in favour of the onboard networking. The most likely explanation for this is my computers activity as all the other tests showed an improvement in favour of the Killer 2100.
Jumping into online play over various play sessions I have found that even just refreshing the server list, the servers seem slightly nippier. With my lowest prior to the Killer 2100 was a load of servers sat with 42 latency, whereas with the Killer 2100 they are at 36. This wasn't just a 1 time test either, for some reason the majority of the UK servers now sit at this speed, but as before they go no lower. (Ping in itself is hard to measure; especially in a game where players, location and server specs have an affect also). Keeping my eye firmly on the net graph I found my ping sat at around 30-40, occasionally bobbing into the 50's. With on board networking it is no surprise to see it suddenly shoot into upper 60's or 70's, even on medium sized servers.
I usually play with my FPS capped at 101 as this makes it firmly sit at 100, which means the game always seems fluid. Drops however rare are very noticeable however you aren't giving your computer all those extra frames to churn out, giving it undue stress with it shooting into the two or three hundreds at moments that aren't visually intense, at competitive play with an FPS, it's good to get comfortable with a set FPS.
Playing on a UK server on de_dust2 with around 14 players with an uncapped FPS I found it go from a previous 170 to around 190 in open areas, another good but varying improvement.
With Battlefield: Bad Company 2, I find the pings too ecstatic measure accurately, however I did find more fluidity in open areas when a lot of action is going on.
Conclusion
Undoubtedly the Killer 2100 does provide a degree of improvement, and now that you can pick up this card for £60 over their older prices of over £100, it certainly is a sweeter purchase. However justifying £60 for a few more frames in some games will be hard for some, especially as with my experience at moments it appears you're getting little to no improvement, as you can see in my benchmarks.
In favour of the Killer 2100, it is a hard product to benchmark and overall has shown improvements in each game I have tried, however for some it will be hard to justify the cost for a 20 or 30 FPS improvement, especially with games that are producing over 150 FPS anyway.
In my opinion at the price of £60 for some this could be better spent on other hardware upgrades and this card shouldn't be relied on as an upgrade to bring your computer into the modern age, but rather to compliment higher specced machines with already good hardware such as that of enthusiasts. It may give small improvements but don't expect miracles, as already proven with this product and its mixed reviews on the internet; you're mileage may vary.
"This card should be used to compliment higher specced machines, rather than relied on to bring your computer into the modern age."
7/10
Gimmick |
>
>
>
>
>
>
>
-
-
-
| Give me it
+ Very useful and intuitive software
+ Looks the part
+ Easy to setup
- Debatable performance increases
Price:
£60
Full list of specifications:
Connection 1x PCI-E
Data rates 10/100/1000 Broadcom Gigabit Ethernet
NPU 400MHz
Integrated memory 128MB PC2100 266MHz DDR
IEEE Compatibility 802.3, 802.3u, 802.3x, 802.3z, 802.3ac, 802.3ab
Ports RJ-45
Previous reviews:
Steelseries Siberia Headset V1 & V2
Razer Lycosa gaming keyboard
Thanks for reading another product review and as always your feedback is read and appreciated.